Electrolysis Machines
Apilus
The Gentle Way To 100% Permanent Hair Removal. Meets International Medical Standards and Approved by World-Leading Organisations in the field including the AEA. Available in 27 & 13.56 Mhz. An investment your salon & clients will never regret! Training, services, accessories and consumables are only available through us for the island of Ireland.
Watch Video
Apilus xCell

27.12MHz More powerful and comfortable than ever before
Modes: PicoFlash, MultiFlash, MeloFlash, Synchro, OmniBlend, MultiBlend
User-friendly programs – Gender, Body Area, Hair Size, Probe Type
Treatment management software with statistics
Artificial Intelligence- setting a new industry standard
---
Senior 3G

13.56MHz The quickest, most powerful and most comfortable technology in its range
Modes: Flash, MicroFlash, MultiPlex, Blend, OmniBlend, MultiBlend
Optimized programs classified by body area, hair size and probe type
Offers Anaphoresis, Cataphoresis
Optional Vitaphase devices connection for aesthetic care
Read more here!
---
Junior 3G

13.56MHz The perfect introduction to electrology
Modes: Flash, Blend, OmniBlend, Electrolysis
Easy-care soft touch keyboard for simplicity of use
Offers Thermocoagulation, Anaphoresis, Cataphoresis
Optional Vitaphase devices connection for aesthetic care
---
We have a cross-reference-chart which you can look at for a quick comparison. However, please note the Platinum Pure is discontinued.
Oval-shaped MicroGard tip for smoothest insertions
Prevents the probe from piercing the follicule
Durable medical-grade Teflon insulation (IsoGard and IsoBlend)
Variety of sizes. colour coded – sterile and individually wrapped
The only probes designed for Apilus ® technology.
Read More here!
---
APL Machines
Apilux Smart Pur II
Dual IPL (PhotoEpilation and Photo Rejuvenation) and APL (Alternative Multi-Pulse Flash Technology
420 to 1200nm wavelength
Removable flash lamp cartridge
Micro-Pulses: 4 – 6 per flash and Duration of 2 – 6ms
Profile management with the ability to create 5 user profiles
---
Apilux 3G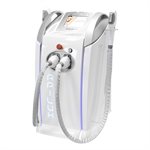 For superior photo epilation treatments, the Apilux 3G is the perfect device. More complete and more powerful than any other system on the market, the Apilux 3G offers quick, lasting and comfortable results. The Canadian-designed technology of the Apilux 3G is based on a high-performance optical technology called APL, an improved IPL technology. The device emits an intense alternating pulsed light, which effectively and safely provides for the needs of any type of clientele.
Hair Removal 640-1200nm
Skin Rejuvenation 530-1200nm
8'' quick response colour touchscreen
Photoepilation, Photorejuvenation, Wrinkles, Vascular lesions, Pigmented lesions, Acne (Optional), Photoepilation on dark skin (Optional)
Improved Ventilation with a 2x improved cooling system
Predefined and Customisable Settings for Men & Women
---
Aesthetic Equipment
Mesotherapy is a way of bringing ampoules into the skin without the need for needles. We have different ampoules to treat different conditions from Anti-Aging to Cellulite to Pigmentation to Lifting and so much more!
Radiofrequency is a pleasant heat treatment that builds up the collagen and elastin fibres in the skin. This gives the skin a plumper and glowing complexion; in a completely natural way.
Oxybrasion is a concentrated airbrush of high quality Oxygen. This can be combined with either a Saline Solution or our Action De Gala Fortified Vitamin Complex, which helps to nourish, moisturise and re-balance the skin.
Ultrasounds uses positive polarity to draw the Action De Gala products deeper into the skin to give an effective anti-ageing treatment.
Ultrasound Liposuction uses an alternating ultrasound current to break up stubborn lipidic cells; this is then combined with Infra-Red heat to melt the fat cells. Infra-Red can be used by itself as a topical analgesic treatment. People who suffer from muscle cramping/ sore backs. necks, etc. find a treatment as effective as being out in the sun- something we lack in Ireland!
Dermomassager is a vacuum used after the Ultrasound Liposuction to bring the melted fat to the lymph nodes which allows it to be excreted/ respired in the body's natural way.
Cavitation Peeling– An ultrasound spatula that acts like a power-hose to the skin. It clears blocked pores, provides a deep clean and leaves the skin feeling fresh and smooth to the touch.
Diamond-Tip Microdermabrasion– Using a variety of different settings, we can gently remove the dead layer of cells from your epidermis. The diamond-tip heads are suitable for all skin types and there are different intensities for face and body.
Find out more here!
---
Angie

Unique 13.56MHz Thermocoagulation and Permanent Hair Removal System (optional)
Offers 3 modes of imperfection treatments – Redness, Imperfections, Pigmentation
Offers 24 Thermocoagulation programs for imperfections and skin type
Optional 24 programs for permanent hair removal
Cataphoresis mode to sooth the skin
---
Vitalymph- Pressotherapy Device
Activates natural lymphatic and blood circulation
Promotes the elimination of toxins and cellulite
Prevents the appearance of varicose veins
Soothes heaviness in the legs and oedema
Oxygenates tissues
Accelerates metabolic reactions
Gives a sensation of lightness and wellbeing
Read more here!
---

Unique Pure Oxygen Technology
Generates 95 – 98% pure oxygen
Needle-free injection process (Meso-oxygen therapy)
Simultaneous oxygen stream with light therapy – Red, Green, Blue
2 connections for

Vitaphase

devices for aesthetic care
Read more here!
---
VitaPeel Microdermabrasion

Two independent phases – Vacuum and Microdermabrasion
DryFlo anti moisture system to prevent blockages
CristalVac anti-residue system to remove crystals remaining on the skin
Two motors and Four pumps for effective microdermabrasion
Sterile disposable nozzle caps
---
VitaLift

Offers 9 programs and 4 modes of treatment
Facial drainage, Specific stimulation, Automatic stimulation and iontophoresis
Practical automatic mode to stimulate 8 different muscles at the same time
Effective pulsed microcurrent with no polarization effect
6 pre-programmed facial areas – forehead, cheeks, eyes, lips, chin, neck
---
Compact Peel

Two independent operated phases – Vacuum and Microdermabrasion
Dry-Flo anti moisture system to prevent blockage
CrystalVac anti-residue system to remove crystals remaining on the skin
Sterile disposable nozzle caps
Wear-resistant titanium hand piece
Got a Question? Get in Touch!